World Update 13 mit Ozenanien für den Microsoft Flight Simulator ist da. Es kann ab sofort kostenlos über den Ingame-Marktplatz heruntergeladen werden. Davor wird der MSFS beim Start automatisch auf Version 1.32.7.0 aktualisiert.
Im Installationsmanager ist ebenfalls noch ein Systemupdate fällig.
Das World Update 13 umfasst Polynesien (Hawaii und die Osterinsel), Melanesien (Fidschi, Neukaledonien, Neuguinea, West-Papua in Indonesien und die Salomonen), die Galapagos-Inseln und Schlüsselregionen der Antarktis.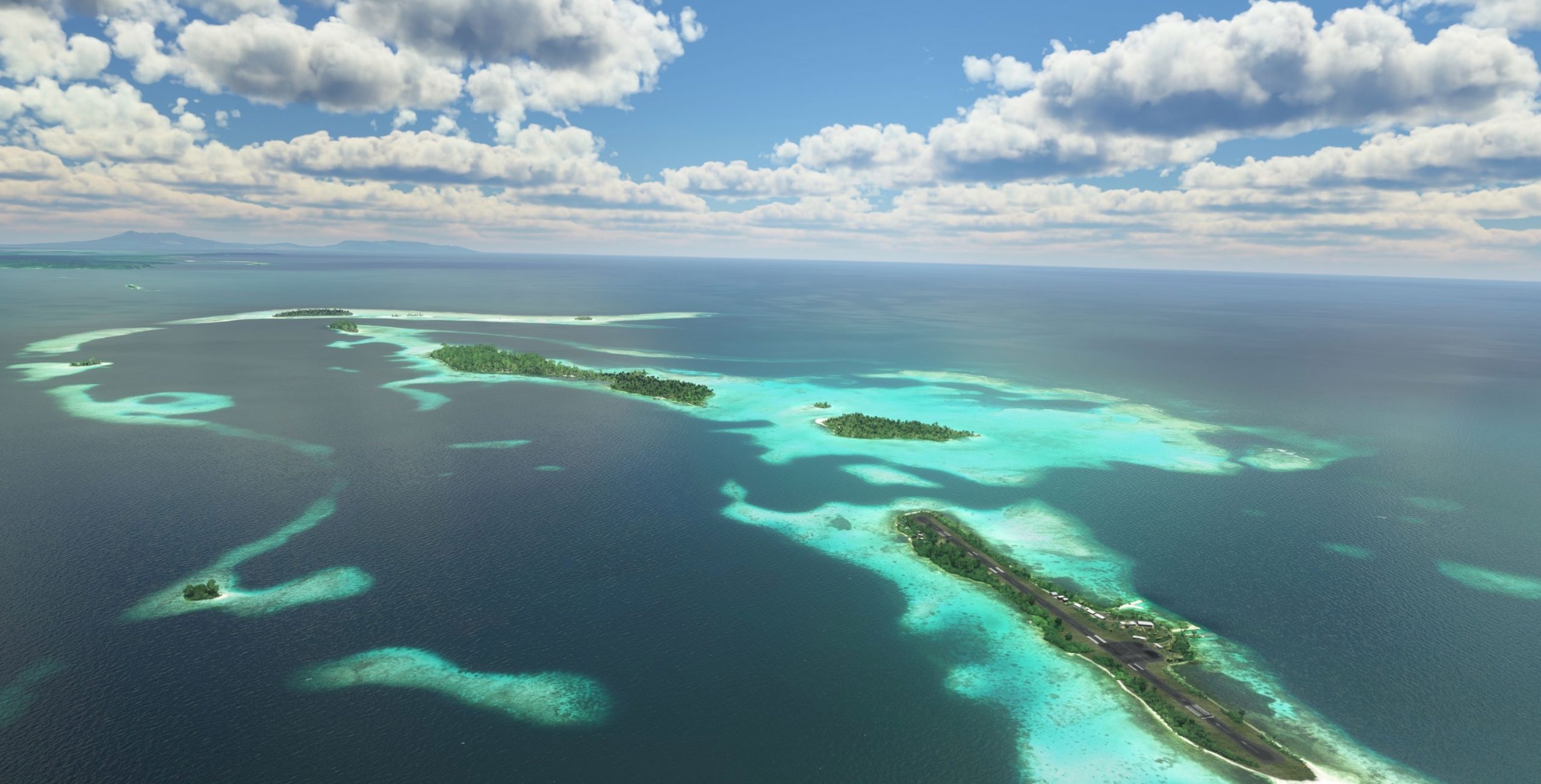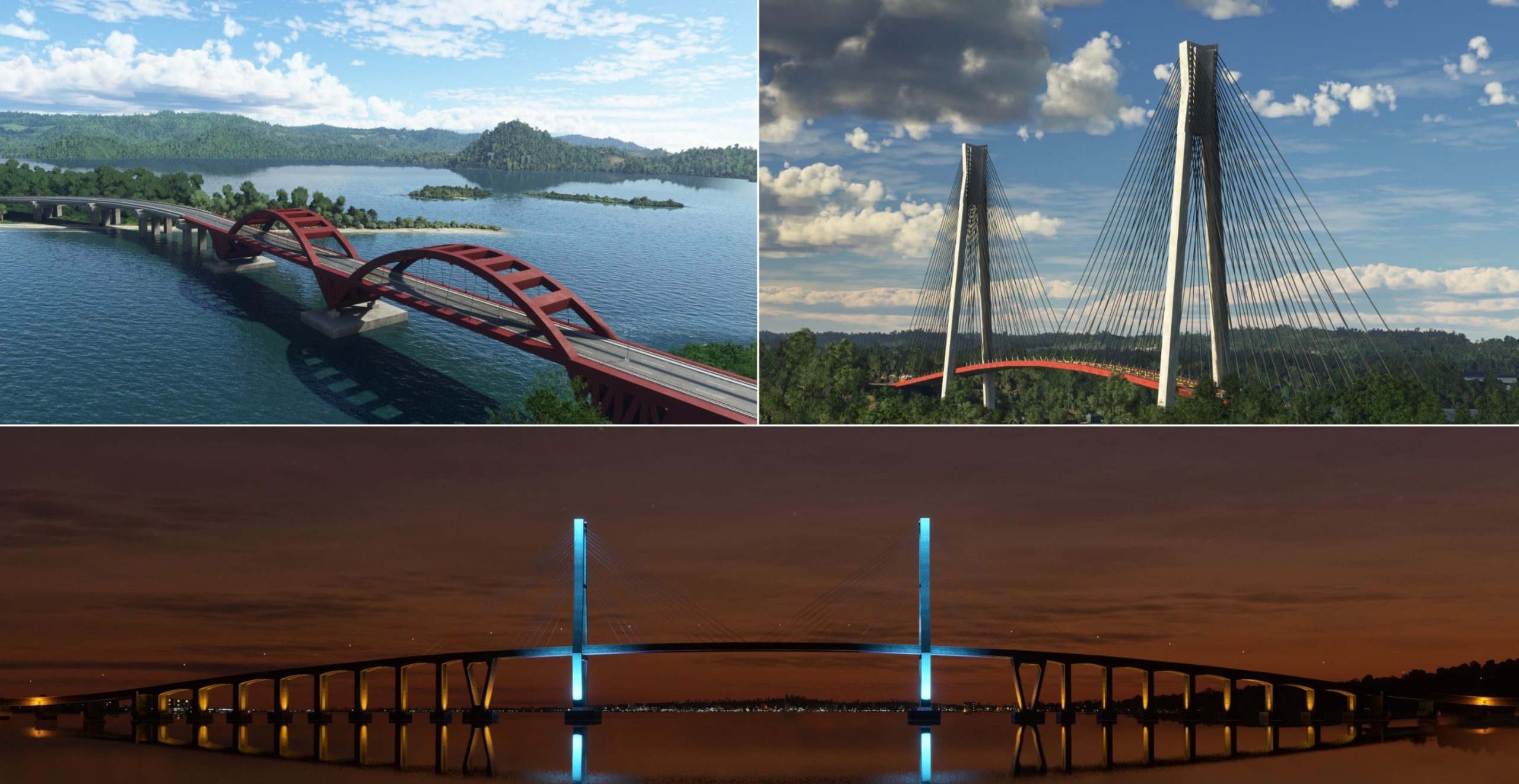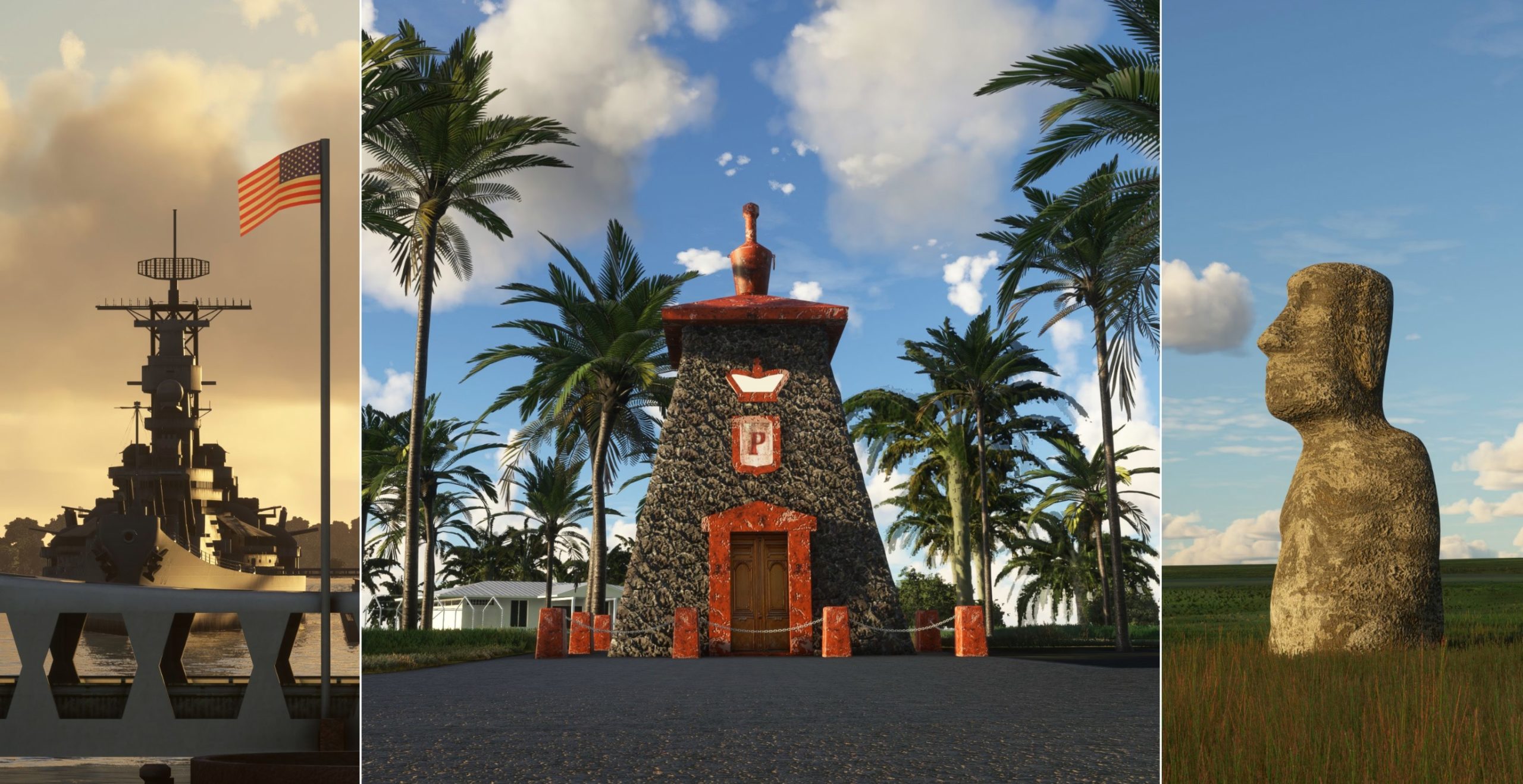 Das Update bietet insgesamt 13 Länder und 28 Territorien, viele davon in verbesserter Auflösung. Die Veröffentlichung basiert laut Microsoft auf den neuesten Satellitenbildern und digitalen Höhenmodelldaten. So gibt es auch ein aktualisiertes Höhenmodell für Hawaii und zeigt die Stadt Honolulu mit Dutzenden von handgefertigten Gebäuden.
Orbx hat für das World Update 13 insgesamt mehr als 150 Points of Interest (POIs = Sehenswürdigkeiten) in der gesamten Region erstellt.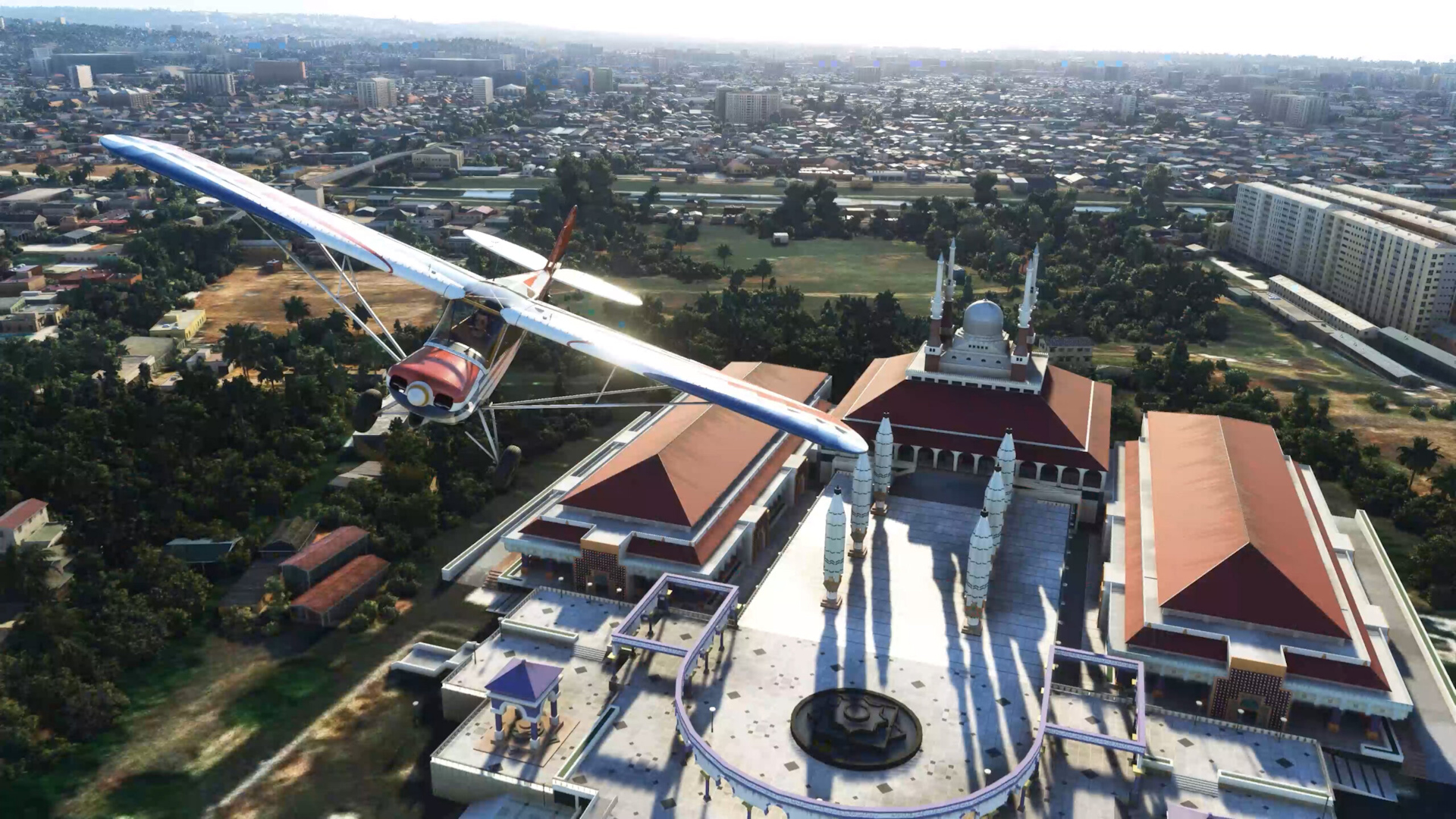 Altutaki Lagoon Island Resort, The Cook Islands
Amédée Lighthouse, New Caledonia
APEC Haus, Port Moresby, Papua New Guinea
Apia Town Clock Tower, Samoa
Autograph Tower, Java
Basilica of St. Anthony of Padua, Tonga
Bora-Bora Pearl Beach Resort, French Polynesia, Bora-Bora
Borobudur Temple Compounds, Indonesia
Cactus Test Dome, The Marshall islands
Capitol of Palau, Palau
Centennial Church, Tonga
Central Bank of Samoa, Samoa
Coast Watchers Memorial Lighthouse, Papua New Guinea
Conrad Bora Bora Nui, French Polynesia, Bora-Bora
FMFMIl Government Building, Samoa
Fort Teremba, New Caledonia
Four Seasons Bora Bora Resorts, French Polynesia, Bora-Bora
St. Regis Bora Bora Resorts, French Polynesia, Bora-Bora
Gama Tower, Java
Gelora Bung Karno Stadium, Java
Grand Hotel and Casino Vanuatu, Vanuatu
Grand Pacific Hotel, Fiji
Great Mosque of Central Java, Java
Guam Museum, Guam
Ha'amonga 'a Maui, Tonga
Hilton Hotel Tahiti, French Polynesia
Hilton Moorea Lagoon Resort, French Polynesia, Mo'ore
Hotel lorana, Easter Island, Chile
Hotel Manava Beach Resort, French Polynesia, Mo'orea
Hotel Nikko and Crystal Chapel, Guam
Imagination Island Hotel, Solomon Islands
Immaculate Conception of Mary Cathedral, Samoa
Indosiar Television Tower, JavA
InterContinental Bora Bora Resorts, French Polyn, Bora-Bora
InterContinental Le Moana Bora Bora Resorts, French Polyn, Bora-Bora
Intercontinental Moorea Resort, French Polynesia, Moorea
Istiqlal Mosque, Indonesia
Isurava Memorial, PNG
Jakarta Cathedral, Java
JOC Building, Johnston Atoll, Johnston Atoll
Kingsford Smith Grandstand, Fili
Kingston and Arthurs Vale Historic Area, Australia
Kiribati Parliament House, Kiribati
Lapangan Banteng, Indonesia
Lawang Sewu, Java
Le Meridien Bora Bora, French Polynesia, Bora-Bora
Le Meridien Noumea Resort, New Caledonia
Le Taha'a island Resort, French Polynesia
Lempuyang Temple Compounds, Indonesia
Lengkuas island Lighthouse, Belitung
Leon Dormido, Kicker Rock, Ecuador
Luminary Tower, Java
Mairie de Pirae, French Polynesia
Markham Bridge, PNG
Menara TVRI Tower, Java
Moai Statues Ahu Akivi, Easter Island, Chile
Moai Statues Ahu Nau Nau, Easter island, Chile
Moai Statues Ahu Tahai, Easter Island, Chile
Moai Statues Ahu Tongariki, Easter Island, Chile
Monas (National Monument), Java
Mori Building, Java
Muri Beach Club Hotel, Cook Islands
MV Ocean Giant, Antarctica
National Parliament House, Port Moresby, Papua New Guinea
Nayara Hangaroa Hotel, Easter Island, Chile
Noble Center, Port Moresby, Papua New Guinea
Norfolk island Convict Barracks, Australia
Notre Dame Cathedral, Papeete, French Polynesia
Numa-Daly Stadium, New Caledonia
Pacific Arcade, New Caledonia
Pacific Place, Java
Pacific Plaza Noumes, New Caledonia
Papeete Town Hall, French Polynesia, Tah
Para O Tane Palace, The Cook islands
Parliament Of The Republic of Fiji, Fiji
Point Venus Lighthouse, French Polynesia, Tahiti
Poreporena Stilt Villages, Port Moresby, Papua New Guinea
Prambanan Temple Compounds, Indonesia
Presidential Palace, Papeete, French Polynesia
Pura Ulun Danu Bratan Temple, Indonesia
Robert Louis Stevenson Museum, Samoa
RSV Nuyina, Antarctica
Sam Poo Kong Temple Compounds, Indonesia
Sanbis Resort, Solomon Islands
Sand Island Structures, Midway Atoll, Midway Atoll
Sanggar Agung Temple Compounds, Indonesia
Sir Hubert Murray Stadium, Port Moresby, Papua New Guinea
Siti Walidah UMS Main Building, Java
Sofitel Bora Bora Private Island, French Polynesia, Bora-Bora
Sofitel Kia Ora Moorea, French Polynesia, Mo'orea
Suramadu Bridge, Indonesia
Taumeasina Island Resort, Samoa
Te Rua Manga (The Needle), The Cook Islands
Tengku Fisabililish Bridge, Batam
Teufaiva Sport Stadium, Tonga
The City Tower, Insia
The Tsubaki Tower, Guam
Tiibsou Cultural Center, New Caledonia
Tomb of King Pomare V, French Polynesia
Tonga Royal Palace, Tonga
Treasury Tower, Java
US Naval Hospital Guam, Guam
Vanuatu Parliament House & Convention Centre, Vanuatu
Wisma 46, Java
Youtefa Bridge, Papua
Hawaii
A'alii Tower, Oahu
Ala Moana Residential Towers, Oahu
Aliiolani Hale, Oahu
Aloha Stadium, Oahu
Aloha Tower, Oahu
Aloha Tower Marketplace, Oahu
Byodo-in Temple, Oahu
Captain Cook Monument, Hawaii
Diamond Head Lighthouse, Oahu
Haleakala High Altitude Observatory Site, Maui
Hanalei Bay Pier, Kaua'i
Hapuna Heliport, Hawaii
Harbor Square, Oahu
Hawaii Air National Guard Radar Site, Kaua'i
Hawaii State Capitol, Oahu
Hawaii State Library, Oahu
Hawaiian Monarch Hotel, Oahu
Hilo Medical Center and Rainbow Falls, Hawaii
Hilton Hawaiian Resort, Oahu
Honolulu Hale, Oahu
Honolulu Park Place, Oahu
Imiloa Astronomy Center, Hawaii
Iolani Palace, Oahu
Jagger Museum, Hawaii
Kilauea Point Lighthouse, Kaua'i
King Kalakaua Building, Oahu
Ko Olina Resorts, Oahu
Makaha Ridge Pacific Missile Range Facility, Kaua'i
Maui Arts and Cultural Center, Maui
Maui Ocean Center, Maui
Mauna Loa Observatory, Hawaii
Moana Pacific, Oauhu
One Waterfront Towers, Oahu
Outrigger Kona Resort, Hawaii
Pearl Harbor National Memorial Museum, Oahu
Rainshed Heliport, Hawaii
Royal Sonesta Kaua'i Resort Lihue, Kaua'i
Sheraton Waikiki Hotel, Oahu
The Ritz-Carlton Residences Waikiki Beach, Oahu
The Royal Hawaiian Hotel, Oahu
Tripler Army Hospital, Oahu
USS Missouri (BB-63), Oahu
Waikiki Landmark, Oahu
Waikoloa Heliport, Hawaii
Antarktis-Stützpunkte
McMurdo-Station, USA, Ross Island
Scott Base, Neuseeland, Ross Island
Davis Station, Australien, Princess Elizabeth Land
Flughäfen
Eine Sammlung von unbefestigten Landebahnen im Hochland in Papua-Neuguinea
Mataveri International Airport (SCIP) auf der Osterinsel
Kona International Airport auf Hawaii
Nusatupe Airport (AGGN) auf den Salomonen
Flughafen Bora Bora (NTTB) in Französisch-Polynesien
Flughafen Moorea (NTTM) in Französisch-Polynesien
Bushtrips
Neukaledonien-Tour in einem Diamond Aircraft DA62
Neuguinea-Herausforderung in einem CubCrafters NXCub
Aloha Hawaii in einer Cessna 172.
Landeherausforderungen
Fidschis Nadi International Airport (NFFN) in einem Airbus A320
Flughafen Palmyra (PLPA) auf dem Palmyra-Atoll in einer Bonanza G36
Busilmin Airstrip (AYIN) auf Papua-Neuguinea in einer CubCrafters XCub.
Entdeckungsflüge
Die West Maui Mountains in einem Segelflugzeug LS8-18 von DG Aviation
Tahiti in einer Cessna 152
Kiribati's Tarawa in einem Guimbal Cabri G2 Helikopter
Hawaiis Mauna Kea in einem Diamond Aircraft DA62
Zentral-Java in einer Cessna 208B Grand Caravan.
Über Photogrammetrie-Städte, die im letzten Development Update auch angekündigt worden waren, ist in den Release Notes nichts zu erfahren.
Dafür wurden im MSFS auch einige Fehlerbehebungen vorgenommen. Etwa bei einem Problem, das beim Airbus 310-300 bei einigen Benutzern zu Programmabstürzen führte.
Ein kleiner Rückblick auf einige der bisherigen World Updates: